STORY.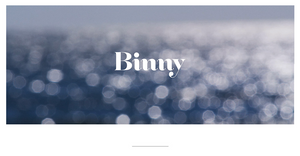 Binny is a contemporary womenswear label inspired by the unique, vibrant beauty of Australia. Through striking prints and eye-catching detailing, each limited edition collection tells a memorable tale.

Founded by designer Belinda Watson, the brand began inauspiciously in a garage in the beachside suburb of Bondi. Following her heart home, she then returned to where she was raised, taking her label back with her to the undulating coast and rolling plains of South Australia. It is here that Binny has grown into one of Australia's much-loved independent brands, each collection etched by the diverse culture and landscape of our country.

Known for playful motifs and statement silhouettes, Binny invokes the joy of dressing up. It is a label for every occasion, with an aesthetic that embraces a spirit of individuality rather than following the whimsy of fleeting trends. 

Working with the same family-run factory in India since the early-days of the label, every garment is made as a beautifully-crafted design to be treasured. A piece to be brought out year after year, collecting memories with each wear. Binny is more than just a label, it is a community. Whether you have been here for years or have just discovered us, we can't wait to see how you wear Binny your way. 


Binny is a label created with a deep love for Australia. Our head office is on Kaurna land where we pay our respects to the Elders past, present and emerging. Binny acknowledges Indigenous Australians as the traditional owners of the country, and we recognise the deep connection to the land the Aboriginal and Torres Strait Islander people of Australia have held for over 65,000 years.